Windows 11 is Microsoft's operating system, succeeding Windows 10. It was officially released in October 2021. Windows 11 includes several visual and functional updates compared to its predecessor. Some of the key features of Windows 11 include a revamped user interface, a centralized taskbar and Start menu, improved multitasking and window management, as well as optimizations for tablet devices and various other updated functions.
Revamped User Interface:
Windows 11 features a new user interface designed to be modern and streamlined. The user experience is clearer and more user-friendly.
Improved Taskbar:
The taskbar has been updated, now featuring a centrally located Start menu, making it easier to find applications and files.
Microsoft Store Redesign:
Windows 11 introduces a redesigned Microsoft Store, offering more applications and games, along with an enhanced user experience.
Virtual Desktops Enhancements:
The Virtual Desktops feature has been improved, allowing you to create and manage multiple desktops more easily.
Performance and Compatibility:
Windows 11 is designed to provide better performance and greater compatibility with various devices, including different-sized screens and devices from different manufacturers.
DirectX 12 Ultimate:
Windows 11 supports DirectX 12 Ultimate graphics technology, providing improved graphics and gaming experience in certain games.
Widgets:
Windows 11 introduces a new Widgets feature, offering personalized information such as weather updates, news, and calendar events directly on your desktop.
Snap Layouts and Snap Groups:
Snap Layouts and Snap Groups features make arranging applications and windows easier and more precise.
You can download the software from the manufacturer's website.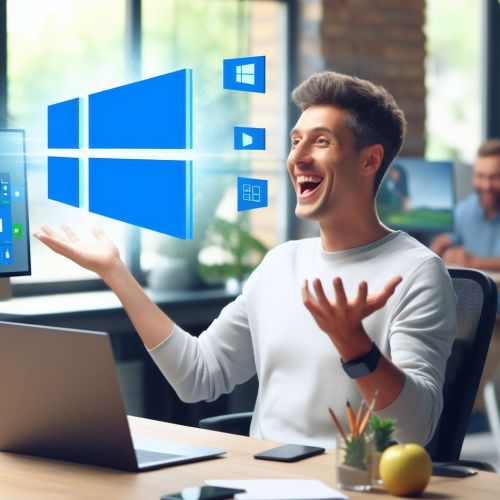 Upgrading to Windows 11
requires specific system requirements, and the update may not be possible for all older computers. Here are some criteria to help determine if your computer is upgradeable to Windows 11:
Performance Requirements:
Your computer must meet certain performance requirements, such as processor generation, amount of RAM, and storage space. Windows 11 generally requires a newer generation processor, such as 8th generation Intel Core or Ryzen 2000 series AMD processor.
UEFI Compatibility:
Your computer must support Unified Extensible Firmware Interface (UEFI) boot mode. Many older computers use the traditional BIOS boot mode, which is not compatible with Windows 11.
Secure Boot:
Secure Boot must be enabled. Secure Boot ensures that only trusted software starts up on the computer.
Trusted Platform Module (TPM) 2.0:
Windows 11 requires a TPM 2.0 module, which is a security-related technology.
If your computer meets these requirements, you can usually upgrade to Windows 11. You can check your computer's compatibility by running the PC Health Check tool provided by Microsoft or by manually checking the system requirements on Microsoft's official website.